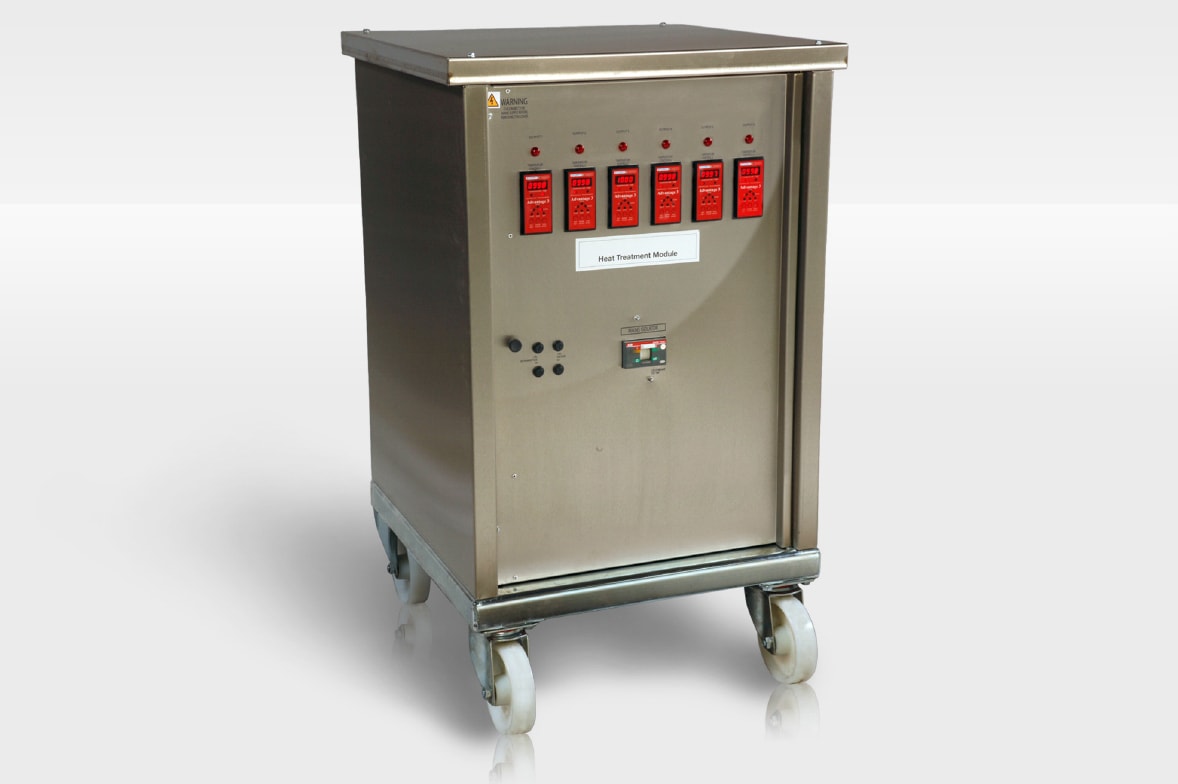 DESCRIPTION
Cooperheat's 70kVA Heat Treatment Modules include our unique "Advantage 3" temperature programmer/controllers which ensure the required temperature uniformity within each control zone. The design of our equipment is based on over 50 years experience as a market leader in the field of heat treatment and has been developed to meet the real needs of the heat treatment engineering industry.
Cooperheat modules deliver:
Value for Money;
Versatility;
Ease of operation and maintenance;
Safety;
Fitness for purpose.
SPECIFICATIONS
Transformer core
Three phase, forced air cooled, class H, 70kVA.
Primary winding connected in Delta.
Secondary winding connected in Star.
Auxiliary winding: 110V a.c. 3.3kVA single phase.
Primary supply
Primary voltage: 380V, 415V, 440V.
Primary current: 106A, 97A, 92A.
Frequency: 50/60 Hz.
Protection
Three phase 125A circuit breaker with shunt trip.
Three primary core winding over temperature.
thermostats linked to circuit breaker shunt trip.
Secondary outputs
Output: 32.5V – 0V – 32.5V (for 30V and 60V heating
element operation).
Auxiliary outputs: Two 110V, 10A, 50/60Hz output sockets.
Number of temperature controlled output channels: 6 channels.
Maximum load per output channel: 10.8kW (e.g. three 60V, 2.7kW heating elements).
Maximum current per output channel: 180A.
Switching
Six double pole, 180A, contractors with 110V a.c. coil.
Temperature control
Temperature measurement, display and control.
Degrees Fahrenheit or Degrees Centigrade.
Start temperature.
Temperature ramp up and down in degrees per hour.
Hold/soak temperature set point and hold/soak time period setting.
Construction
Case: 304 Stainless Steel case fitted with four 150mm nylon wheels.
Dimensions
Weight: 330kg.
Height: 1125mm.
Width: 680mm.
Depth: 665m.