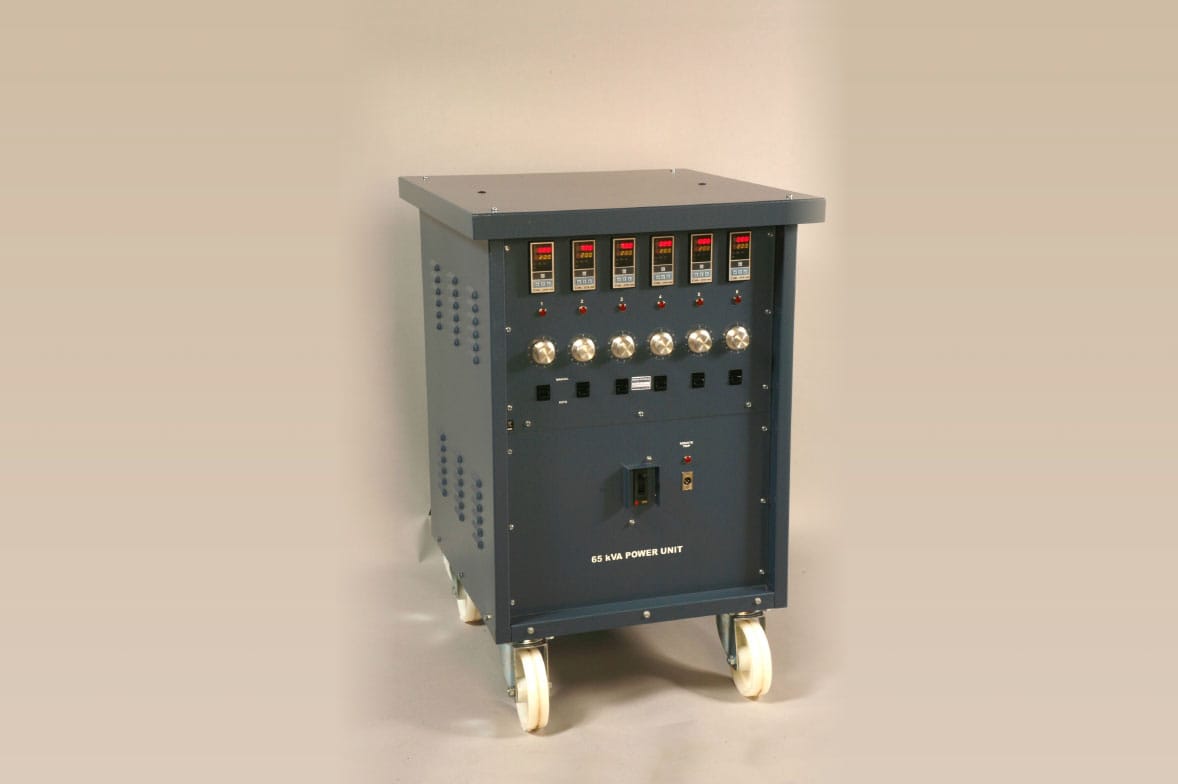 DESCRIPTION
The 50kVA unit consists of a robust, natural air cooled, 3 phase transformer which is built into a compactly designed, strong, steel case which together provide the unit with a long working life expectancy. Each output channel is controlled by means of an internal energy regulator working in parallel with a digital temperature controller. Provision is also made for connection to external control from any compatible programmer/control unit. Switching between internal (manual) control or external (automatic) control mode is made via each channel's auto/manual selector switch.
SPECIFICATIONS
Transformer core
Three Phase, Air Natural, Class 'H', 50kV.
Primary winding connected in Delta.
Secondary winding connected in Starm.
Primary supply
Primary voltage: 380V, 415V, 440V.
Primary current: 76A, 70A, 66A.
Frequency: 50/60 Hz.
Protection
Three phase 100A circuit breaker with shunt trip.
Three primary core winding over temperature thermostats linked to circuit breaker shunt trip.
Secondary outputs
Output: 65V.
6 temperature controlled output channels.
Max load per output channel: three 60V, 2.7kW heating elements.
Maximum current per output channel: 135A.
Auxiliary Output: Two 110V, 5A, 50/60Hz fused output sockets.
Switching
Contactorised – six off 200A, 110V a.c. solenoid contactors.
Control
Six 110V Energy Regulators.
Six 110V Temperature Controllers.
One Multi-pin socket for remote programmer.
Mode Selection: Six Auto/Manual switches.
Indicators: Six 110V neon channel indicators.
Construction
Case: Robust sheet steel case complete with four 150mm diameter wheels.
Lifting Method: Fork lift under base.
Mains connection
The units are complete with 4.5m of four core primary cable.
Dimensions
Weight: 302kg.
Height: 1010mm.
Width: 675mm.
Depth: 725mm.